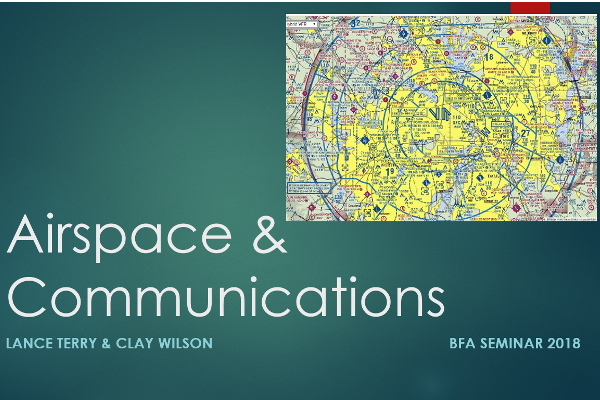 Mark Your Calendars!
The Balloon Federation of America's annual
Online Seminar will be available starting
Saturday, April 27, 2019
By request from many previous seminar attendees, we are providing the 2019 Online Seminar in Video format. Starting April 27th, viewers will be able to watch pre-recorded video segments at their own pace and in their own timezone (no more waking up at 4:30am on the west coast!).
Of course, the BFA highly recommends that balloonists attend their local face-to-face seminar if possible. We try to schedule the online seminar later in the Spring to allow those who missed a local seminar to be able to complete a course.
We also recommend watching the seminar in groups if possible. The interaction with others often enhances the experience. We know of several balloon clubs and groups that meet somewhere with a big screen and share the experience together.
Once all 7 videos have been watched, the participants will take a short test to verify attendance. Don't worry, if you are paying attention you will do just fine. Once completed the attendance information will be sent to the registered person's insurance company.
Speaker List:
Sam Parks - Albuquerque, NM - Aeronautical Decision Making

Bill Smith - Louisville, KY - Flight Operations

Tamie Folley - Salt Lake, UT - Ground & Crew Safety

Ryan Carlton - Danville, IL - Weather on the Web

Scott Wooge - St. Louis, MO - Maintenance & Repair Jeopardy

Tony Sandlin - Fishers, IN - Commercial Lessons for Regular Flights

Dean Carlton - Danville, IL - Accident Review and Analysis
Seminar Pricing:
BFA Member - Pilot - $50.00

BFA Member - Crew - $35.00

Non-BFA Pilot+Digital Mag - $85.00

Non-BFA Crew+Digital Mag - $70.00

Non-BFA Pilot+Delivered Mag - $105.00

Non-BFA Crew+Delivered Mag - $90.00
---