Great Reno Balloon Race
Title:

Great Reno Balloon Race

When:

09/09/2022

,

05:00

-

09/11/2022

Where:

Rancho San Rafeal Park - Reno, NV

Category:

Event Custom Field 1:

Mike Kijak

Event Custom Field 2:

kijakmike@gmail.com

Event Custom Field 3:

renoballoon.com
Description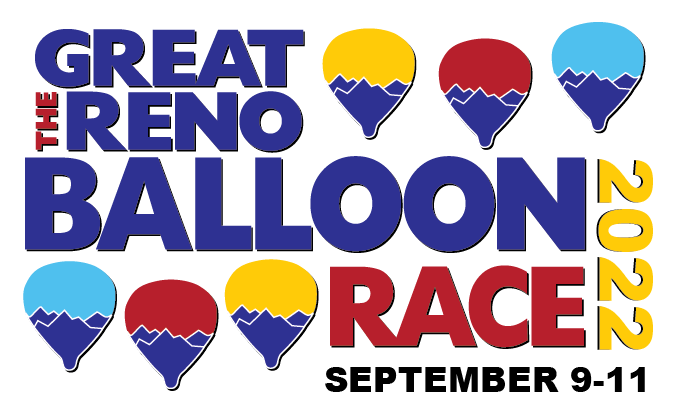 World's Largest Free Balloon Event
The mission of The Great Reno Balloon Race is to provide a premier, safe, family-oriented/tourist-attractive, visually dramatic event that celebrates the joy of flight while remaining free to the public.
The Great Reno Balloon Race is the world's largest free hot-air ballooning event. During four days in early September, you can look up into the Reno skies and see a rainbow of hot air balloons soaring about. From its humble beginnings in 1981 with just 20 balloons, The Great Reno Balloon Race has taken flight with up to 100 balloons each year. The idea was to create an event that would keep visitors in town the weekend between the State Fair and the Reno Air Races and 40 years later, it is known as a world-renowned, and locally, a beloved community tradition.
Taking place just a few miles north of downtown Reno at Rancho San Rafael Regional Park, the event enchants both young and old with its vibrant colors and inspiring music. The Great Reno Balloon Race has won many awards over the years, including 'Best Special Event in Reno' and 'Best Special Event in Northern Nevada.' With an average of 120,000 spectators attending the event each year, the number of lives touched by the beautiful spectacle continues to rise just like the balloons themselves.
---
Venue
Location:

Rancho San Rafeal Park

Street:

1595 N. Sierra St.

ZIP:

89503

City:

Reno

State:

NV

Country:

Venue Custom Field 1:

Melissa Ung

Venue Custom Field 2:

melissa@renoballoon.com

Venue Custom Field 3:
Description
At 580 acres, Rancho San Rafael Regional Park is Washoe County's largest and most dynamic park. In addition to the variety of amenities and facilities within the heart of the park, the acreage also extends past the north side of McCarran Blvd. The diverse landscape includes everything from manicured lawn to native pasture grasses, and wetland habitat to dusty sagebrush.
Rancho San Rafael Park is probably most well known for hosting the Great Reno Balloon Race, but it is also home to dozens of other special events throughout the year. The Wilbur D. May Museum and Wilbur D. May Arboretum & Botanical Garden can also be found here, as well as a visitor center, the historic Ranch House, the Nevada Farms and Families Area (formally known as Great Basin Adventure), Herman's Pond, five large reservable picnic pavilions and dozens of individual sites, the Basque Sheepherder Monument, miles of trail, a disc golf course, and so much more. We invite you to come explore!