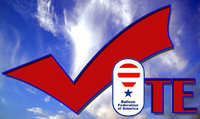 ELECTION 2017
Elections are now open for online voting!
You will need your BFA email address and your BFA number. You can find your BFA number by logging into the BFA website. It will be in the top right of the screen. All BFA members as of July 3, 2017 are eligible to vote except Associate members and Junior Balloonists. All seats are for 3 year terms.
All eligible voters can vote for BFA "At Large" Director.
You must reside in the region to vote for regional directors.
You must be a member of HACD, PRO, or GAS divisions to vote for those candidates.
For those members without an email address, a paper ballot will be mailed.
Voting will end on August 19, 2017 at 5:00pm Central Standard Time.

If you need assistance, contact Scott Wooge (314) 422-5873) or Jill McConnell at the office (515-961-8809).
For those candidates that have provided profiles, you can click on their names to learn more about them.
---
CANDIDATES
BFA Board of Directors
Northeast Region Director
Dwight Cramer – Munnsville, NY
Mark MacSkimming – Harrisburg, PA
---
At Large
Ted Watts – Meadville, PA - Incumbent
---
Western
Katie Griggs – Dayton, NV - Incumbent
---
---
Hot Air Competition Division
Great Lakes
Gary Britton – Slinger, WI -Incumbent
---
At Large
Drew Egerton – Statesville, NC
---
SW region
Harold Bubba Cliver – Lewisville, TX
---
---
GAS DIVISION
(Vote for 2)
Andy Baird - Dexter, MI
Andrew Nels - Smyrna, GA
---
---
PRO DIVISION
Northeast Region
---
Great Lakes Region
Tony Sandlin – Fishers, IN
---