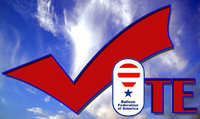 ELECTION 2019
Elections are now open for online voting!
You will need your BFA email address and your voting number (emailed to you on 7/29/19).
All current BFA members as of July 8, 2019 are eligible to vote except Associate members and Junior Balloonists. All seats are for 3 year terms.
All eligible voters can vote for BFA "At Large" Director.
You must reside in the region to vote for regional directors.
You must be a member of HACD, PRO, or GAS divisions to vote for those candidates.
For those members without an email address, a paper ballot will be mailed.
Voting will end on August 8,2019 at 5:00pm Central Standard Time.

If you need assistance, contact Scott Wooge (314) 422-5873) or Jill McConnell at the office (515-961-8809).