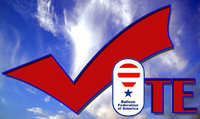 ELECTION 2019
---
Candidates have been selected by their respective nominating committees and we are please to announce the candidates for the 2019 election. All seats are for 3 year terms.
Online voting will begin on July 29, 2019. For those members without an email address, a paper ballot will be sent on that date. Voting will end on August 28, 2019 at 5:00pm.
Announcements of the election will be on or before September 9, 2019.
For those candidates that have provided profiles, you can click on their names to learn more about them.
---
BFA Board of Directors
Great Lakes Region Director
---
Southwest Region Director
---
At Large
---
Hot Air Competition Division
Northeast
No Candidate - will be nominated by HACD Board
---
Western
---
At Large
---
GAS DIVISION
(Vote for 2)
---
---
PRO DIVISION
Southwest Region
No Candidate - will be nominated by PRO Board
---
Great Lakes Region
Tony Sandlin
---