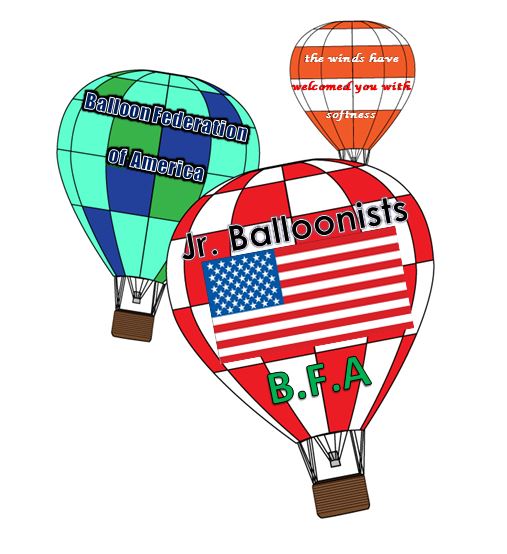 Junior Balloonist Program
The BFA Youth Program benefits the youth of ballooning and ensures the future of ballooning. The Junior Balloonist Program is open to kids aged 13-17. Through education, summer camps, training, and mentorship, we provide youth the ability to discover and grow in the sport of ballooning. Our volunteers mentor youth helping them achieve their goals.
The BFA Youth Program operates Youth Summer Camps for teens aged 13-17. The Summer Camps are the ultimate experience for teens who want to learn more about hot air ballooning. No need to worry if you don't have experience handling balloons. Balloon tethers are scheduled throughout the camp (weather permitting) under the leadership of certified pilots. As part of the event, visitations to balloon and aviation related sites are scheduled as well as plenty of hands-on activities. Past years, topic presentations and discussions have included: Crew Safety, Balloon Systems, Basic First Aid, Power Line Safety, Weather, Pilot Training, FAR/AIM, Mapping and GPS, and much more!
For more info contact the BFA office:
515-961-8809
This email address is being protected from spambots. You need JavaScript enabled to view it.
2021 Junior Balloonist Camps Announced
2021 Camps Scheduled
Rio Grande Camp - Albuquerque, New Mexico - July 10th, 2021
Southeastern Balloon Camp - Gaffney, SC - June 22, 2021
High Sierra Camp - Reno, NV - June 20, 2021
More date details coming soon.
Registration begins at 8:00am Central time March 1, 2021.

Registration priority is given to new campers first with returning campers second. Many balloon clubs offer scholarships for their member teens to attend camp. We encourage you to join your local balloon club and become more involved in ballooning in your own area as well as by attending camps!
---